Finally, you can go out and buy a worthy electric kids dirt bike that will compete with its gasoline counterparts.
Riding a dirt bike and going off-road is a thrilling experience. As adults, it lends you that adrenaline rush and the excitement that you always wanted to experience. But whether you agree or not, we all wanted to ride these fantastic bikes when we were kids. However, a few decades back, when we were kids, dirt bikes were only meant for adults and were not available for kids. But now, even kids can be a part of all the fun and excitement.
There is nothing better than gifting your kids one of these fun machines. Dirt Biking can help your child in developing a different unexplored side of their personality. It can help your kids develop a lot of skills such as locomotion skills, decision-making skills, hand-eye coordination, self-confidence, and a feeling of accomplishment. These bikes are not merely toys for them but can prove to be their most cherished and loved possession. If you wish to give one of these bikes to your youngster, you will not regret your decision.
Why should you get an Electric kid's dirt bike?
Your kid can now mob around the backyard without the neighbors complaining about the noise.
I feel that eliminating the sound pollution that a gas-powered kids dirt bike makes is worth switching to an electric dirt bike.
This is really great for the sport where noise emissions are a concern.
Here are a few reasons to get your kids an e-bike:
No gas
No heat
No sound – very quiet
Easy to start
Easy to charge
Less maintenance
Less intimidating
No gas, no heat, and easy to start are a BIG reason for considering an electric dirt bike for your child.
Buying your little one a battery-powered dirt bike is a great way to get them into riding.
NO mess and charge it and go!
Here is a table of all the bikes mentioned in this article:
| | | | | | | | | |
| --- | --- | --- | --- | --- | --- | --- | --- | --- |
| Name | Seat Height | Bike Weight | Power | Max Driver Weight | Age | Max Range | Battery | Price |
| 2021 KTM SX E 5 | 26.1″ | approx 90lbs | 5KW | | min.4age | 25/120min.driving time | 21Ah | 5.099 USD |
| Beta Minicross E dirt bike | 27.3″ | 83.7 lbs | 750W | | 6 to 11 years | average 45min. | 36V 13AH Li-Ion | 1.799 USD |
| OSET MX-10 dirt bike | 20.3 – 21.7'' | 81.99 lbs | 1400W | 88 lbs | 4-9-year-old | 2-3h run time | 1 x OSET 20Ah 48V Lithium battery | 3,199 USD |
| Razor SX 500 Dirt Rocket – McGrath | 21″ | 98 lbs | | 175 lbs | 14+ | up to 40 min. | 36V (three 12V) | 659.99 USD |
| Razor MX350 Dirt Bike Electric | 20″ | 55.1 lbs | 250W | 140 lbs | 13+ | Up to 30 mins | 24V (two 12V) sealed lead acid | 329.99 USD |
| Razor MX400 Electric Dirt Bike | 22.5″ | 62.6 lbs | 250W | 140 lbs | 13+ | Up to 40 mins | 24V (two 12V) sealed lead acid | 329.99 USD |
| Razor MX650 | 24.5″ | 98.2 lbs | 650W | 220 lbs | 16+ | 40 mins | 36V (three 12V) sealed lead acid | 729.99 USD |
| Burromax TT250 | 21″ | 54.6 lbs | 250W | 250 lbs | all ages | 8h | 2-12V 7Ah batteries | 449.95 USD |
| Razor RSF 350 | 20″ | 51 lbs | 250W | 140 lbs | 13+ | 30min. | 24V (two 12V) sealed lead-acid | 629.99 USD |
| XtremePower US Dirt Bike | 24″ | 74 lbs | 500W | 165lbs | 13+ | 26miles | 36V, 8Ah, Lithium-ion battery | 379.95 USD |
Comparison table of dirt bikes for kids containing name, seat height, bike weight, power, max driver weight, age, max range, battery, and price
Well….which electric dirt bike should you get?
Below is a list that ranks the quality available kid's electric dirt bikes. The list is in order of what ranking I would give them.
The List of the Best 10 Kids Dirt Bikes:
These fantastic electric dirt bikes are specially designed for kids. These are carefully made and are passed through numerous quality and safety checks to ensure these bikes are safe for your little ones. Right from acceleration to balance to braking, every little aspect of these bikes is tailored to keep kids' comfort and safety in mind.
So these are the TOP 10 best electric dirt bikes for kids. The top 3 are really well-built electric dirt bikes.
The #1 best kids electric bike is the KTM SX E-5.
---
#1 2021 KTM SX E 5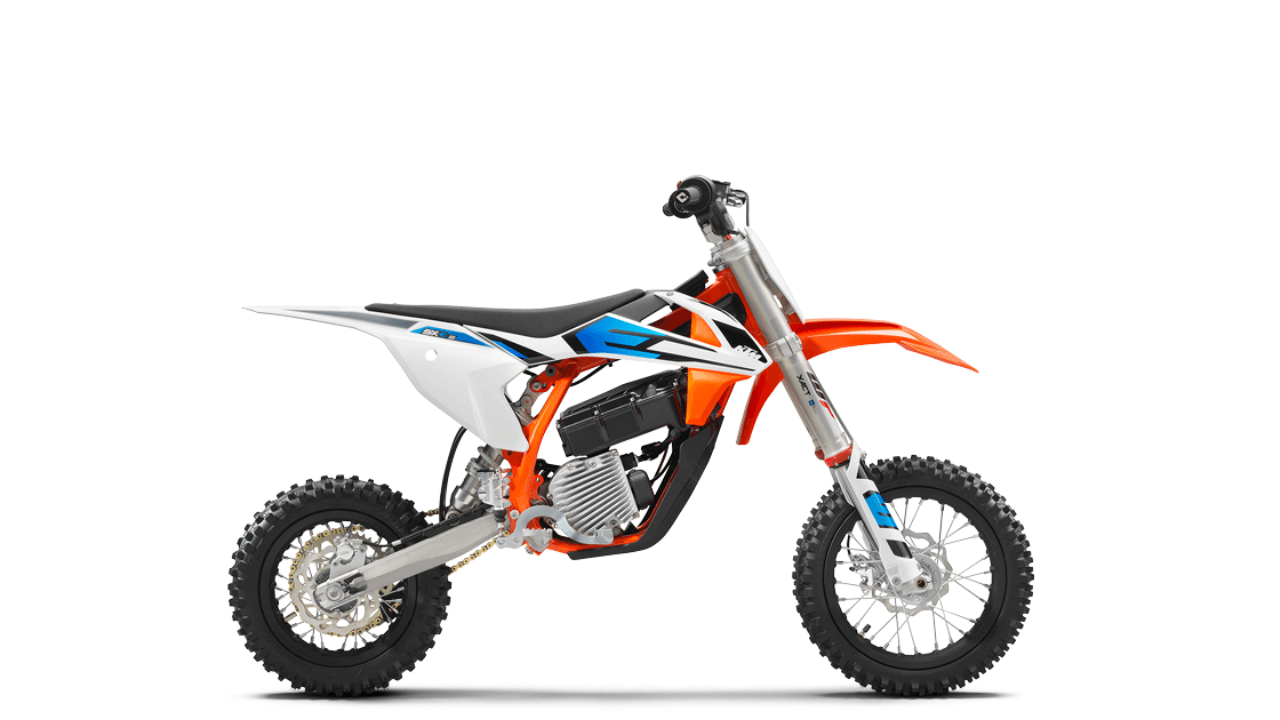 KTM owns Husqvarna, and both 2021 KTM SX E5 and 2021 Husqvarna EE 5 AS electric dirt bikes for kids are the same except for the plastic and name. These dirt bikes deserve the #1 position on this list.
KTM is very well known in the dirt bike world for building race-ready dirt bikes. For 2021 they have released the 2021 KTM SX E 5 kids electric motocross dirt bike.
KTM built these electric motocross bikes to compete with their gas-powered brothers (KTM SX50 + KTM 65SX).
This kid's electric dirt bike from KTM is a race-ready motocross dirt bike.
If you want to learn more about Husqvarna EE 5, watch our video below:
KTM SX E5 electric dirt bike specs | Husqvarna EE 5 electric dirt bike specs
WP AER air forks
WP rear PDS shock
Lithium-ion battery
70 min battery charging
Front and rear disc brakes
48 V – BLDC motor with outer rotor
Adjustable frame (50SX – 65SX)
2 hours of general riding time
I fully expect these KTM electric dirt bikes to compete with the other kids Petro powered motocross bikes.
The power might even be better and more consistent. This really helps to keep lap times down. With the KTM SX E 5, you no longer have to worry about gas and messing with the carb.
The KTM 50SX, which is a gas-powered dirt bike, also has an automatic clutch. These types of clutches are not as reliable as a standard manual clutch basket.
The gas-powered auto clutch basically just slips as you increase the power. It then will get tight enough once you have high enough RPM. This makes the dirt bike harder to ride for your kids.
However, the electric motorcycles don't have gears either but are reliable and do not have the same issues that the KTM 50 SX auto clutch has.
The KTM or Husqvarna kids' electric dirt bikes will be easier to ride.
If you are serious about wanting your child to have the best kids electric dirt bike on the market, then the KTM or the Husky are the way to go.
As I mentioned before, KTM built these e-bikes to race motocross. In fact, I won't be surprised if KTM SX E5 eliminates all of the 2 strokes KTM 50 SX bikes for the Junior motocross series this year.
---
#2 Beta Minicross E dirt bike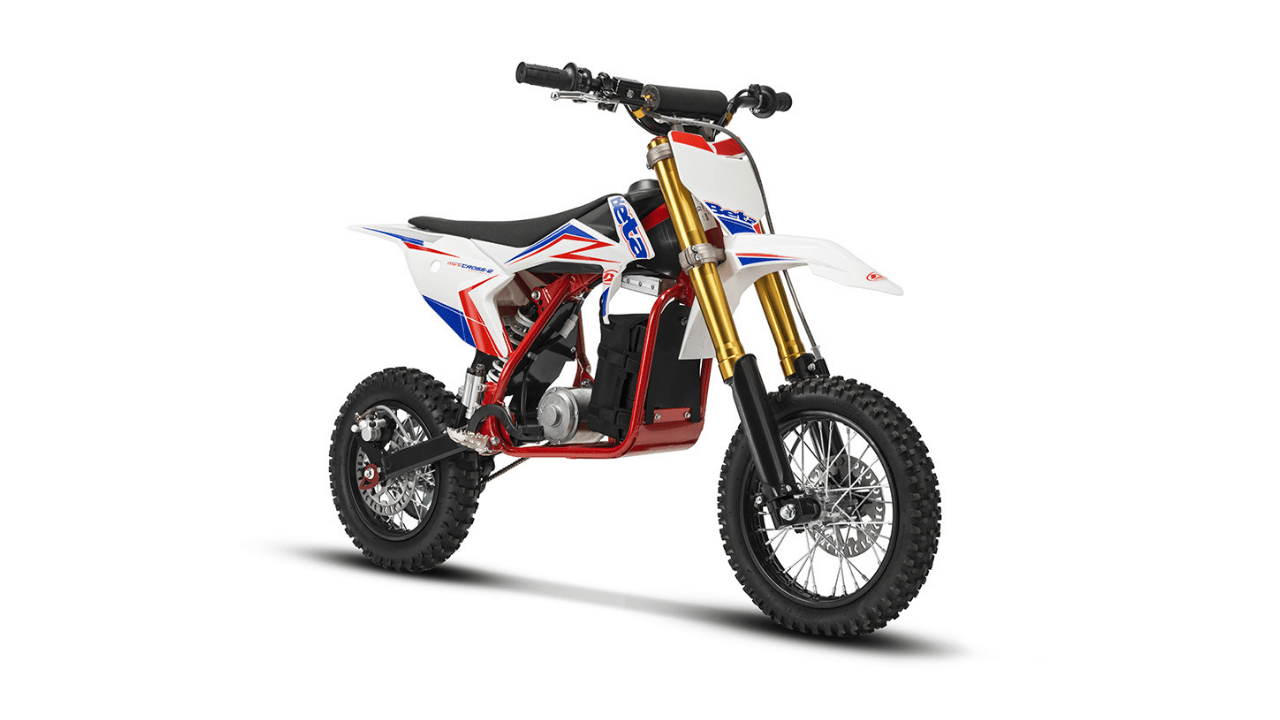 Beta motorcycle makes quality enduro and off-road dirt bikes.
Their Beta Minicross E is geared towards those kids who want to get into dirt biking but may need something quiet and easy to ride.
This bike is designed like the KTM. However, it uses less sophisticated batteries and a motor.
Beta Minicross E electric dirt bike specs
 750 Watt/36-volt Motor
3 lead-acid batteries 12v each
1 hour run time
Inverted fork
Rear shock
94.5 lbs
This means that the performance isn't going to match the KTM. However, this also means that the Beta mini cross E is going to be more affordable.
If you want your kid to be able to have fun and ride around on the motocross track or trails.
If you don't plan on riding out in the middle of nowhere, the Beta Minicross, with the more significant suspension and better brakes, would be a better option, in my opinion, than a CRF50.
---
#3 OSET MX-10 dirt bike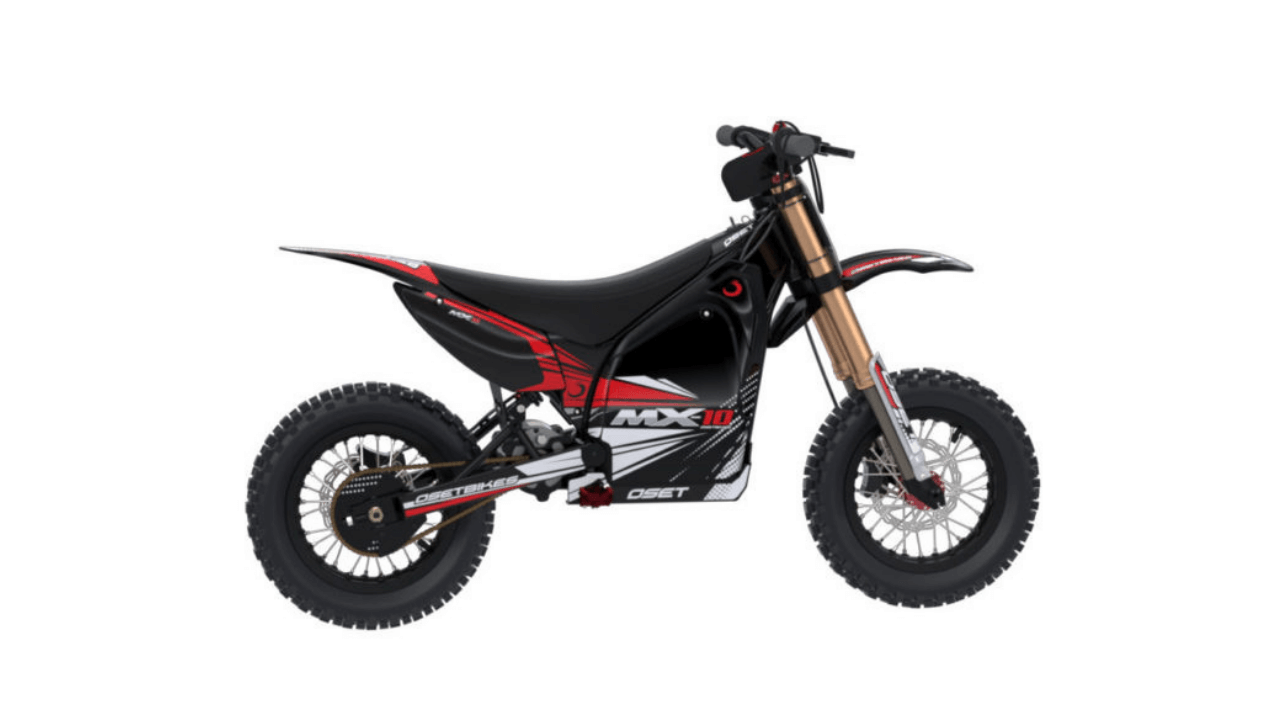 OSET is well known in the trials bike world, and they decided to make an electric motocross bike for kids.
Oset, years ago, was worried about all the noise when helping their kids ride gas-powered dirt bikes.
Oset built a handful of quality kids electric trials bikes.
The seat height of the OSET MX-10 is comparable to the CRF50 or TTR 50 bikes.
This OSET MX10 electric bike comes with high-quality suspension and brakes.
You can jump and have fun on the MX-10.
This would be a great starter electric dirt bike for your boy or a girl. It has multiple power modes, allowing your kid to grow into the bike.
OSET MX-10 electric dirt bike specs
OSET 20ah lithium battery
48v OSET drive system
3 power modes
Adjustable seat height
81.99lbs
*** Note: I haven't been able to find out what the run time or the charge time is yet.
---
#4 Razor SX 500 Dirt Rocket – McGrath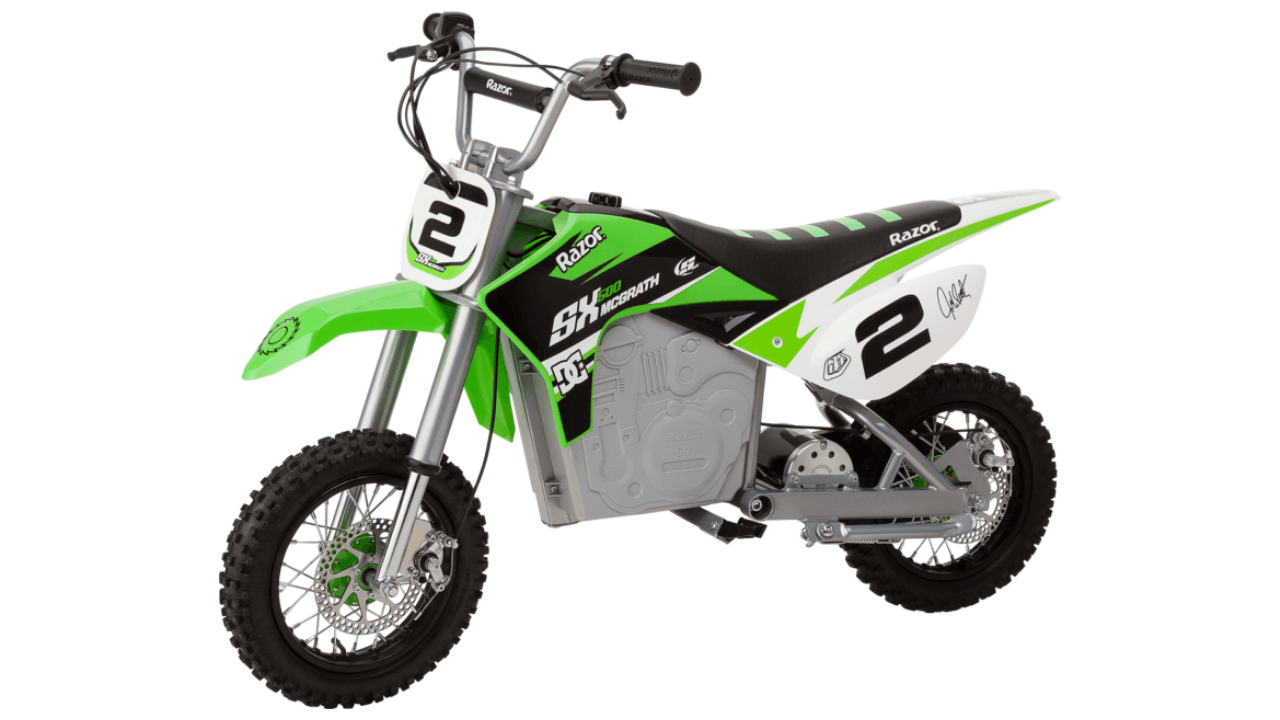 The Razor SX 500 Dirt Rocket – McGrath is exactly the same as a Razor MX 500 Dirt Rocket, just with a different graphic kit. So keep that in mind, as both deserve the 4th position on this list.
This fantastic battery-powered dirt bike for kids is inspired by the legendary Jeremy McGrath – one of the greatest motocross champions America has ever had.
I added Razor electric dirt bikes to this list as I believe that they are not built, and the first 3 bikes in this article, but you get a good value for your money. They are good enough and price well that your kids can get A TON of fun out of them.
The Razor MX500 / SX500 are great bikes to get your kids started into dirt biking. You don't have to invest thousands of dollars into a bike that your kid will outgrow.
They aren't too terrible for building quality, but they don't have the high-quality motor, battery, and suspension that the other bikes come with.
This bike stands out in its simple motocross bike geometry and design, and that is why it is a favorite amongst many young people. Along with an authentic design, this bike also features McGrath graphics, making it a preferred bike.
The steel frame design and construction look quite sturdy and durable and are made to reach speeds of up to 15 mph. You can go up to 40 mins of use on a single charge. The front tire is a 6-inch knobby, and the rear one is a 14-inch knobby made out of durable aluminum. The tires are designed to provide maximum power and a smooth ride. The tires feature disc brakes for added security.
In terms of comfort as well, this bike is a class apart. Your offspring get a comfortable ride experience with a dual-suspension in place and handlebars that adjust and rise.
Razor SX 500 Dirt Rocket – McGrath & Razor MX 500 Dirt Rocket key features:
Authentic Graphics and a premium design inspired by Jeremy McGrath.
High torque and multi-speed motor.
Speed up to 15 mph.
Dual Suspension and riser handlebars.
40 min battery life
Pros –
Attractive and premium designs.
Allows your kids to experience high speeds.
Highly durable steel frame.
Knobby tires provide good power transfer.
Features front and rear disc brakes for quick braking.
Comes with a kickstand for immediate parking.
Front inverted forks
Cons –
Needs to be charged again and again.
Charging time 5-7 hours
---
#5 Razor MX350 Dirt Bike Electric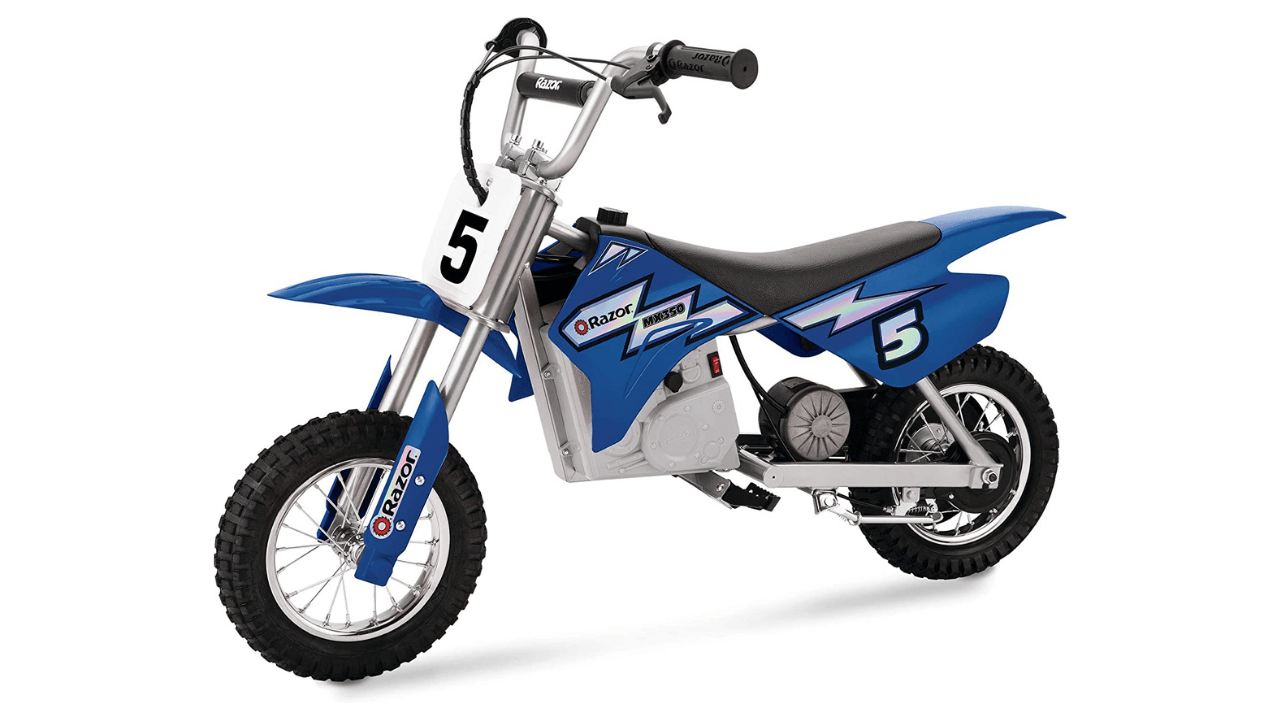 I have personally owned the Razor MX350, and my kids rode it for years. They loved it. Watch my long term review below:
The Razor MX350 Motocross is a scaled-down electric beast that can help you give your kid the ultimate ride. The best part about these bikes is that your kids won't need to paddle and are super silent. This bike is a complete package when it comes to everything a kid's dirt bike needs. 
To ensure your kid gets the maximum power while riding the bike, this bike features sizeable 12-inch pneumatic tires that are ready to take on all terrain. Moreover, its super quiet and powerful operation is also one of its USPs. It features a chain-driven, single-speed motor with a twist grip control. 
This off-road electric motorcycle is also a class apart when it comes to comfort. The bike comes with soft rubberized grips for easy handling and a handlebar that can be adjustable like child's play. Just charge it when it's low on charge, and you are good to roll again.
Razor MX350 Electric Powered Dirt Bike Electric Key Features 
Top speed of 14 mph.
Sizeable 12-inch pneumatic knobby tires.
Chain-driven, single-speed, and throttle control with twist grip.
Soft rubberized grips for padded and easy handling.
Adjustable handlebars for extra comfort.
Pros – 
Offers better speed control.
Large tires provide the best power transfer.
Does not need paddling.
Rubber grips and easily adjustable handlebars for better comfort.
High-performance off-road bike.
Not too noisy.
Easy to handle and maneuver.
Comes with its own battery.
Cons – 
It may feel really small for 13-plus-year-old kids.
High energy costs as needs charging too often. 
---
#6 Razor MX400 Electric Dirt Bike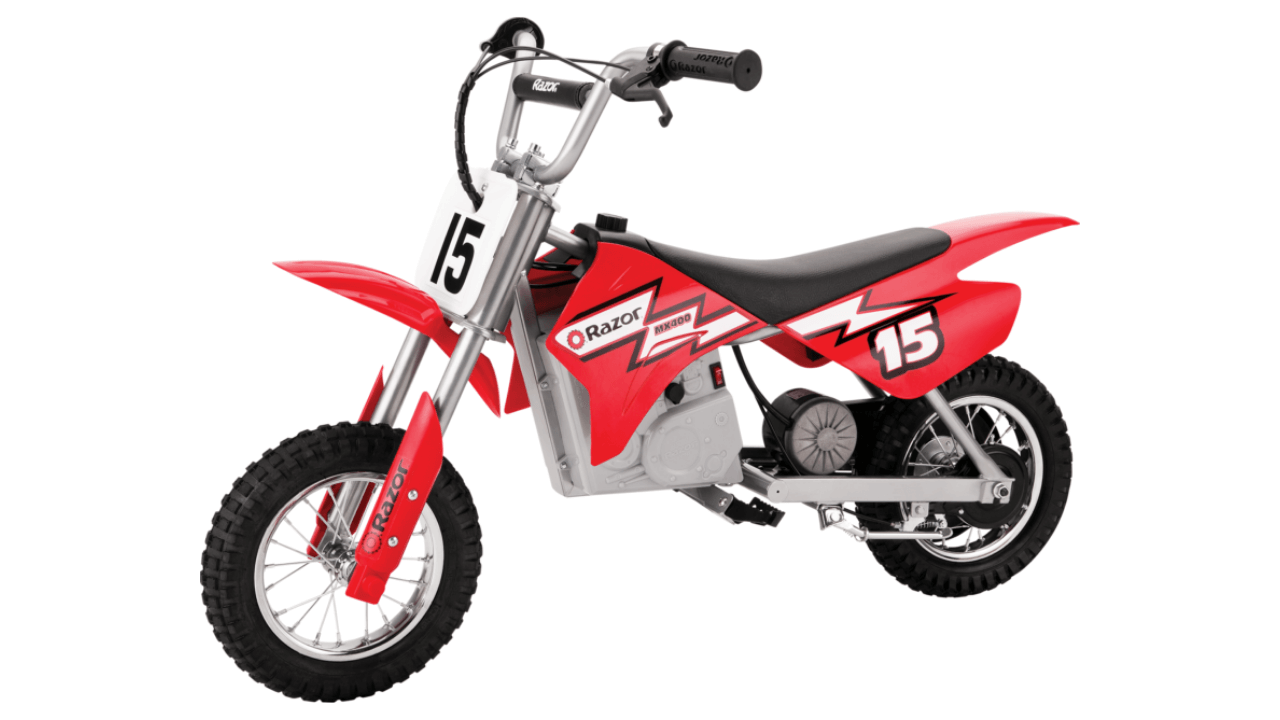 If you are looking for a bike that is a perfect blend of both style and functionality, then the Razor MX400 should be the bike you can go for blindly. This electric two-wheeler is one of the cheapest and also one of the best electric dirt bikes for kids that you can get. Moreover, this one is loaded with some advanced features that make this a preferred choice for many.
The large 12-inch pneumatic tires make sure the bike gets the required power transfer while riding. The engine comprises a chain-driven single-speed electric motor that makes its operation look like a breeze. This makes the engine pretty powerful yet very quiet while your kid is on a ride, making your kid's riding experience smooth and noise-free.
If your kid loves more speed, the twist-grip throttle feature allows you to quickly change gears and attain speeds up to 14 mph in no time. With other features, such as adjustable handlebars, this bike boasts of providing one of the most comfortable ride experiences.
Razor MX400 Key Features:
Large tires for optimum power transfer.
High torque heavy-duty motor.
Speed up to 14 mph with a twist-grip throttle.
Comfortable handlebars that can be adjusted as required.
Pros – 
Power transfer is maximum.
Switching to the higher gear is easy.
Provides a comfortable ride.
Quiet and powerful engine.
Effective braking for a safe ride.
Extremely durable and will last for many years.
Battery charging is easy.
Cons –
Short battery life.
High energy costs due to frequent charging.
Rider modes are unavailable. 
It May not be suitable to handle weights more than 140 lbs.
---
#7 Razor MX650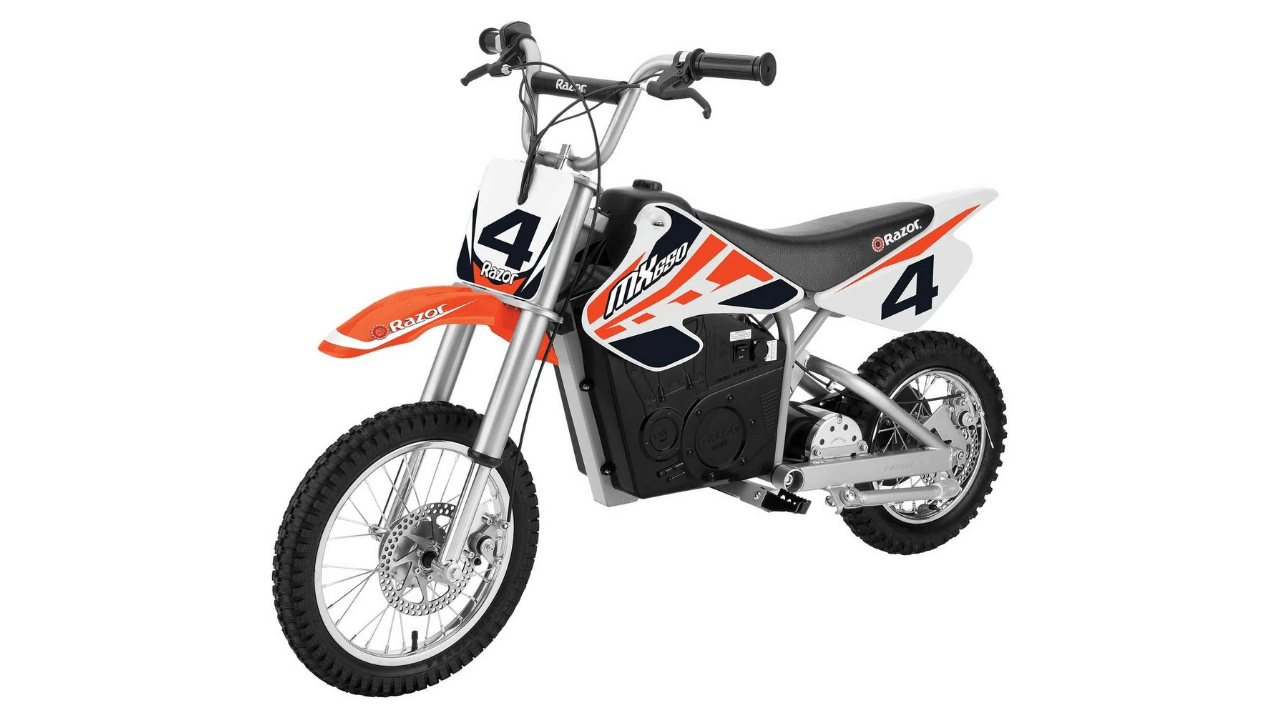 If you are looking for an electric dirt bike for kids made for rugged terrain and complete off-road biking, the Razor MX650 is the bike that you can blindly trust. The sturdy design and compactly built make this bike make many heads turn in awe. Its compact design makes it easy to store almost anywhere with ease.
What stands out about this bike is the powerful 650-watt motor that lends it some incredible power to attain speeds up to 17 mph. It can go on up to an hour with a single charge, which is pretty good for electric bikes. The knobby tires make the power transfer pretty easy. The chain-driven motor lends a noise-free and variable speed experience. 
When it comes to comfort as well, this one is not too far behind. The riser handlebars and dual suspension make it highly comfortable, providing smooth-riding experiences. 
Razor MX650 Key Features:
650-watt Electric Motor Powered Engine
Speeds up to 17 mph.
Features knobby tires (pneumatic)
Comes with riser handlebars and dual suspension.
Pros – 
Compact design makes it easy to store and carry.
Multi-speed feature for a thrilling experience.
Comfortable and smooth riding experience.
Do not make much noise while riding.
Makes off-roading and up-hill riding easy.
Highly durable body. 
Cons –
Needs to be charged too often.
Have a limited warranty
---
#8 Burromax TT250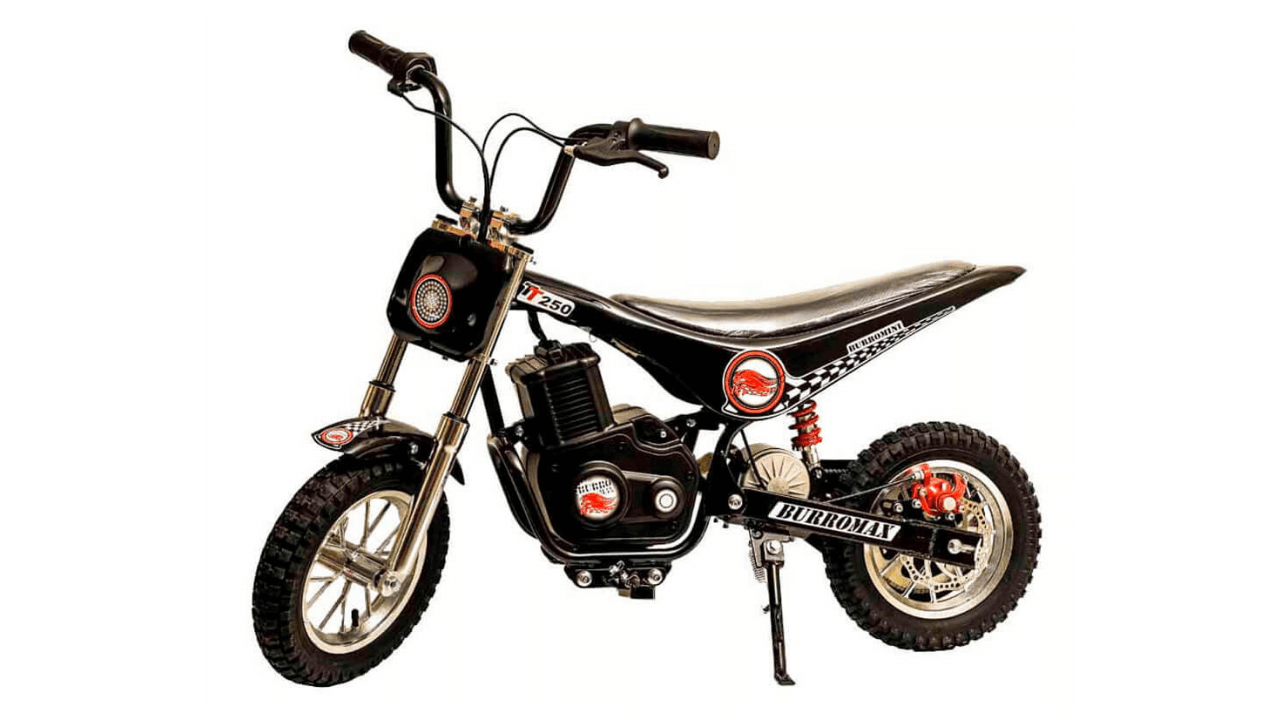 This electric-powered dirt bike for kids is near equivalent to its senior counterparts and is said to be a scaled-down version of TT Enduro. The bike features a realistic 250W engine that provides it with the necessary power to attain speeds up to 14 mph. The bike comes with adjustable speed modes, and the speed can be adjusted between 7 to 14 mph. 
The Burromax TT250 comes with a deep cycle 24V battery that produces enough power to last a whole day. This is one of the USPs of this bike. Also, the bike has a pretty strong pickup and smooth acceleration that talks volumes about its power.
The bike features a steel frame with aluminum alloy wheels. The tires are at 12.5 inches, enabling it a better power transfer. The bike comes with all the required equipment needed for installation and timely maintenance. The bike accessory kit also comprises training wheels to provide your juniors with the necessary safety.
Burromax TT250 Key Features:
250W Electric Motor and 24 V providing enough power.
Top speeds of up to 14 mph.
Large 12.5-inch tires.
Riser handlebars, full suspension, and folding footrest.
Pros – 
Features steel frame and aluminum alloy wheels for high durability.
Adjustable speeds between 7 to 14 mph.
Comfortable and smooth riding experience.
The large battery provides power that lasts for 1 day.
Comes with training wheels for the safety of the kids while learning.
Cons –
The frame may be too sleek to withstand rough terrain.
It may feel noisy.
---
#9 Razor RSF 350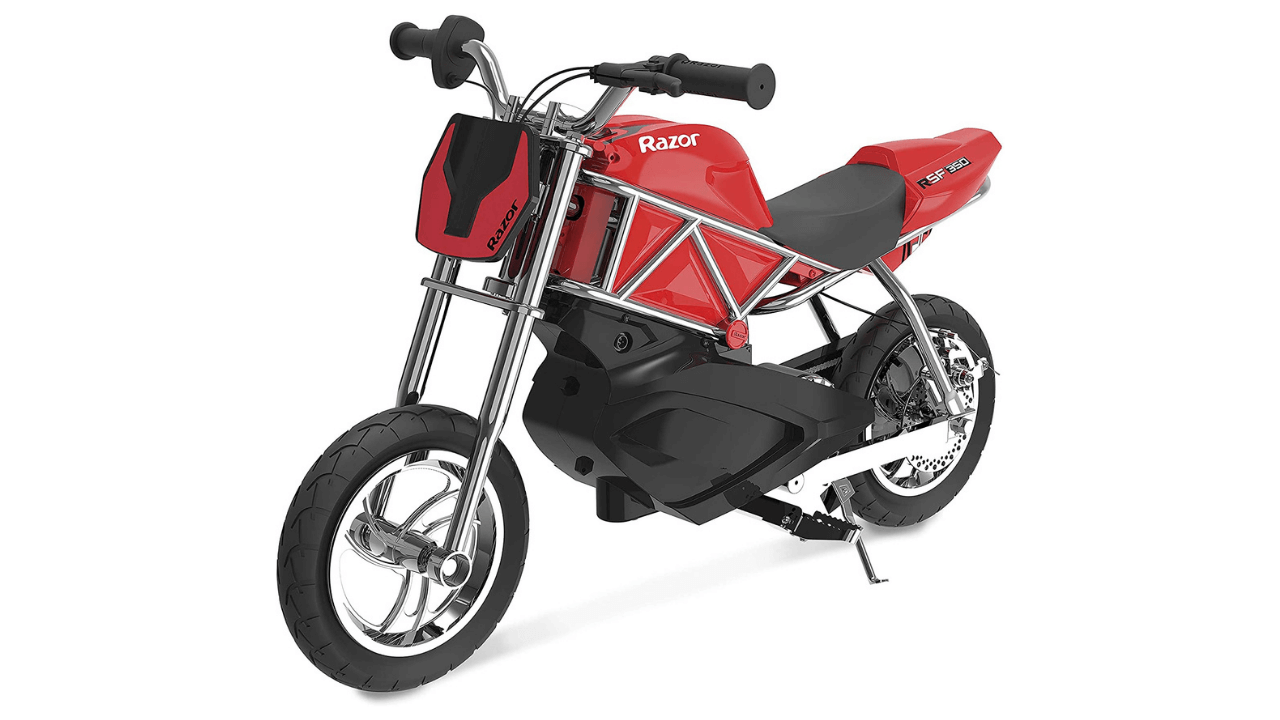 This two-wheeler is tiny dual-sport street bike and can be driven around almost anywhere. Whether you want your kids to have some good time in your backyard or in the streets facing your house, this one is good for some good ride in the town. 
The bike makes use of a high-torque 350W electric motor engine to move the bike. The required power is supplied by a 24 Volt lead-acid battery unit. A single charge can give you up to 30 mins of non-stop riding. 
This bike's top speed is 17 mph, which is pretty fast for an electric bike but is easily controllable. The bike is pretty safe as well as it features rear disc brakes that can be engaged almost immediately. 
The looks of this bike make it stand out. The design gives you a feeling of a real motorcycle and does not look like a toy. The wheels are custom-made 3-spoke, 10 inches, mag wheels that deliver the required power transfer with ease.
Razor RSF 350 Key Features:
Features 3-spoke, 10-inch mag wheels.
Comes with a 24V sealed lead-acid battery unit.
Speeds up to 17 mph.
Rear suspension and rear disc brakes.
Chain-driven high torque engine.
Adjustable handlebars and suspension.
Pros –
Smooth and comfortable ride.
Soft rubber handle grips.
Comes with storage compartments.
Less maintenance is required.
Real dirt bike-like design.
Cons –
Riding time lasts only 30 mins per charge.
High energy costs.
Uncomfortable seat.
---
#10 XtremePower US Dirt Bike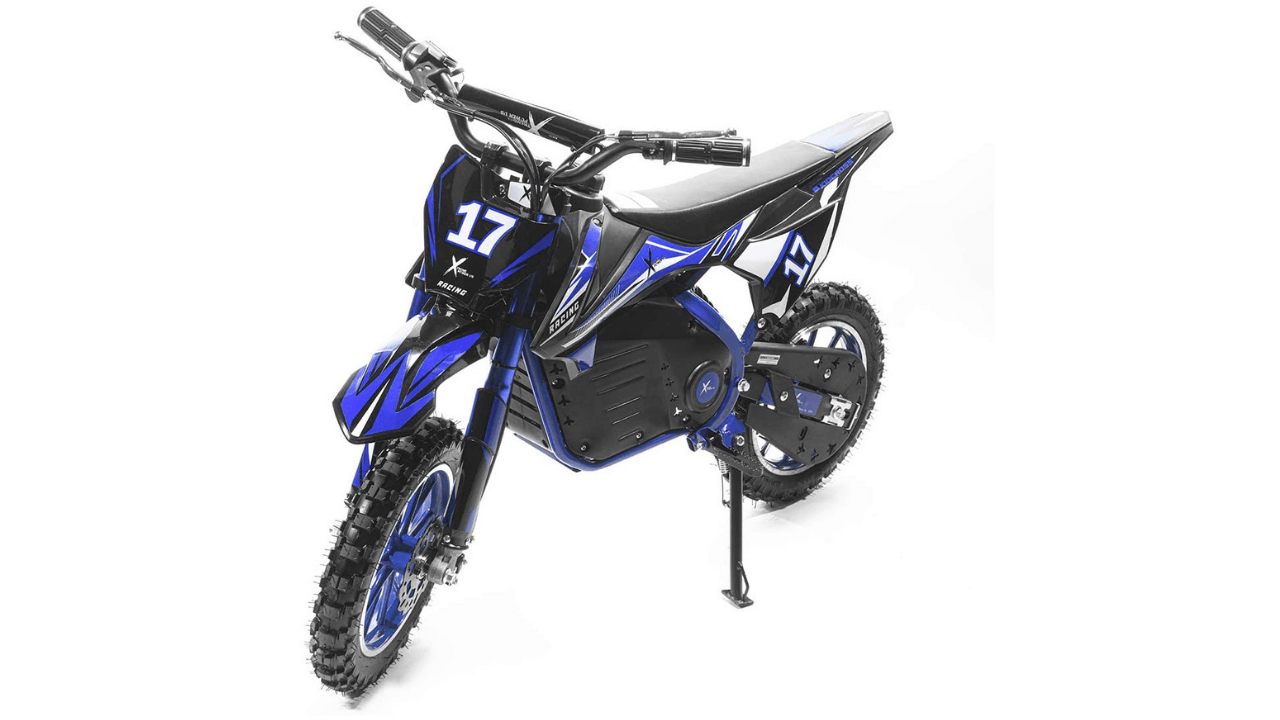 If you are looking for an excellent all-terrain bike, this bike is the one for you. Its durable design and stunning looks make it a preferred choice for many first-timers. The bike design is more focused on providing a balanced and safe ride with effortless control.
It features a powerful 500W high torque chain-driven motor that can help the bike reach speeds up to 17 mph. The bike also features parental control that lets you set the maximum speed for your kid. There is a front hydraulic suspension and a spring suspension in the rear for a smooth ride experience. 
The massive 36V Li-Ion battery can last a few hours, but it depends on terrain and speed.
XtremePower US Dirt Bike Key Features:
All-terrain bike with authentic dirt bike looks.
36V, 8Ah, Lithium-ion battery.
Top speeds of up to 17 mph.
Features anti-vibration system.
High-quality front (hydraulic) and rear(spring) suspension
Pros –
High durable all-terrain bike.
Smooth riding experience.
The battery can last for a few hours.
Comes with parental controls.
Provides better stability and control.
Cons – 
Electric – needs to be changed frequently.
---
Conclusion
Dirt biking is an excellent alternative to the long hours of screen time our kids are involved in. Having said that, selecting the right bike at par with all safety standards is also essential. Use this piece to choose the best dirt bike for your kid and gift them an experience they will cherish all their lives. 
Now that I have given you the top 2020 best electric bikes you can buy for your kids.
Let's talk about how much each of these kids electric bikes cost
KTM SX E 5 / Husqvarna EE 5 $5000
Beta Minicross E $1800
Oset MX-10 $3000
Razor SX500 $659.99
Razor MX500$659.99
As I mentioned, these are the BEST kid's electric dirt bikes. Not the cheapest.
KTM built theirs to be competitive with the kids 2 stroke motocross bikes.
So far, they are.
Beta and Oset are more geared towards replacing like a honda CRF50 type of gasoline-powered dirt bikes.
Either way, if you are serious about your kid racing or riding motocross…
Go with the KTM SX E 5
Just want to trail ride and have fun…..the Beta Minicross and the OSET MX-10 are a solid bet.
How did we choose the best electric dirt bikes for kids:
As before, we tend to do this by experience. This means we discuss them in our community of dirt bikers which most of us have introduced our kids into dirt biking. Then we discuss with our kids how they handle the dirt bikes and what their experience is. Then we go through the process of elimination and comparing the best electric dirt bikes.
To get unbiased results from our electric dirt bike research for kids, we test the following:
Dirt bike construction
Brand name & experience in the sector
Young drivers feedback 🙂
Is it safe for a kid to drive it by checking safety features
Battery type and battery charging
Variable speed: option to limit the miles per hour per kids age
Is it a proper electric-powered dirt bike
Weight
Height
Electric engine power
Availability